Special Offers
VOLUME DISCOUNTS AVAILABLE! ~ CALL FOR SPECIAL QUOTE! ~ (800) 832-4521
WELCOME to Evans Christmas Supply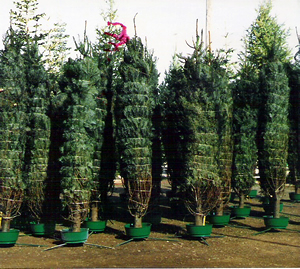 Evans Christmas Supply Company is a premier supplier of Christmas tree retail lot supplies and Christmas tree grower supplies in the United States.
          Our full line of Christmas tree products include the following.
          Christmas tree colorant: Kirk varginia pine, Kirk super pine, Kirk super pine II, Kirk Leyland cypress, Cleary supergreenzit, and Cleary Super C. Christmas tree stands: Cinco Stands, DavisStands, Kelco Stands, Ideal Stands, Wire Tree Stands, Evans Wood Stands and Nail On Bowls, Evans Rebar Pin Stands and Grommet Bowls, drill machine and drill bits. Christmas Tree Flock: Evans flock, Sno-Bond flock, Peak Seasons Superstick flock, Flockbond flock, and colored flock. Christmas tree flocking supplies: Poly tree tubing, dry flock color, gritter, pearlescent flakes, glitter gun, turntables, flock machines and parts, coveralls. Christmas tree baling supplies: Kirk tree balers and parts, Kirk netting, and TNI red and green christmas tree netting. Wreath Making Supplies: No Hammer Clamp Machine, Mitchell wreath rings, pinecones, berries, wreath hangers, Christmas ribbon, Vel-pruf ribbon, velvet ribbon, Lion ribbon, Berwick ribbon, bows and Needle Hold. Garland making supplies: Garland Machine, garland twine, and garland wire. Christmas tree preservatives: Keeps-it Green Preservative, Kirk Tree Life Liquid preservative, Kirk tree life packets,Tree Moist, and Forest Fresh preservative. Evergreen commercial flame retardant and flame retardant tags. Christmas tree removal bags: Kirk removal bio-bags, and Jumbo christmas tree disposal bags. Retail christmas tree supplies: T-Shirt thank you bags, Santa's spray snow, snow machine spray, Santa's Magic Water Spouts, christmas tree novelty lights, Christmas story books, and Christmas tree coloring books, Goods of The Woods Fat Wood, Magical Pine cones and Firestarters. Christmas tree lot supplies and Christmas tree farm supplies: Lit'l Shakee tree shaker, chalkboard signs, corrugated signs and vinyl banners, christmas tree banners, pumpkin banners, pennants, Christmas tree sales tags, sold tags, christmas tree care tags, markers, chalk markers, chalk, kraft paper, safety vests, shade cloth, burlap, rebar, EZ display arms, christmas tree display pins, bow saws, hedge shears,Felco pruners, loppers, Beneke trimmer, long reach pruners, Zep45, Zenport tapner, divider netting, Christmas tree lot lights, twine, Handy ring knives, tubs, Pherocon insect monitoring kit for nantucket tip moth, Solo sprayers, Chapin sprayers, ATV sprayer, wire flaggs, flagging ribbon, H2O Mud gloves, work gloves, dust masks, ear plugs, rubber boots, rain suits, Nemesis safety glasses, ranger hat, seedling protector tubes, planting bars and bamboo.
          Evans has established a solid reputation in providing high quality products at competitive prices, with fast delivery. For these reasons, many customers have come to trust Evans Christmas Supply, year in and year out, to equip their lots and stores and farms.